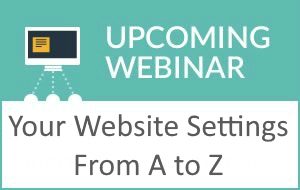 Your Website Settings from A to Z
Date: Thursday, Feb 27, 2020
Time: 7:00-8:00 PM CDT (5:00 PM PST / 8:00 PM EST)
Discover your website's settings and the functionality they add. We'll look at spam control, social media links, organizing navigation, and much more.


---
Navigation Tips to Help Your Visitors
Date: Tuesday, Mar 10, 2020
Time: 3:00-4:00 PM CDT (1:00 PM PST / 4:00 PM EST)
In this webinar, we will look at page management and how to help your visitors find what they need. What is essential for good Navigation? This is the question we will answer.


---